INSPECTIONS
A home inspection is a visual inspection of the readily accessible systems and components that include:
| | | | |
| --- | --- | --- | --- |
| - Roofing | - Structure | - Exterior | - Electrical |
| - Heating | - Cooling | - Plumbing | - Insulation |
During the inspection we will take you step by step throughout the home and gladly address any questions or concerns that you may have. By attending the inspection, you will get a better understanding of the home's overall condition and recieve many helpful/maintenance tips/advice.
Our inspections usually take 2-3 hours. We print detailed on-site reports to allow for quick transactions. When the inspection is done we sit down with you personally to review the report and answer any outstanding questions you may have. Our inspections are unbiased neutral opinions. We work for YOU!
For Buyers
Pre-Purchase Inspections
For buyers, a pre-purchase home inspection provides you with the essential knowledge of all the components of the house. This can prevent costly surprises and give you peace of mind when it comes to purchasing your home. The results of the inspection can also be used to renegotiate asking price.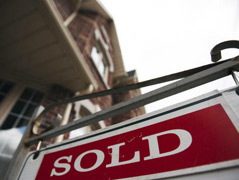 For Sellers
Pre-Listing Inspections
As a seller, there are several good reasons to have a pre-listing inspection. Having your home properly inspected before putting it on the market allows everyone to see if there are any issues that need to be addressed. Regardless of whether or not you wish to attend to the problem, having buyers made aware can prevent any conflicts down the road when negotiations are in process. Furthermore, many offers are conditional upon a home inspection. If one has already been conducted you may recieve unconditional offers which can considerably shorten the time that your house is on the market.
For Buyers & Sellers
Walkthrough Inspection
This inspection is less extensive and does not include a report. It offers prospective clients an alternative style inspection while still getting a solid, general understanding of the home's systems, stucture, and components. Please call or email us for more information.
For Homeowners
Investigation Inspections
This type of inspection is for home owners living with reoccurring problems or mysteries existing in their homes. In these situations a standard home inspection is not sufficient because the problems may be more complex. This inspection involves the use of thermal imaging to minimize damage, but in most cases the removal of drywall and flooring is often necessary. With our strong building & renovation backgrounds we can confidently offer these unique inspections to solve your most complicated problems.